Health Savings Account (HSA)
It's a healthy way to save!
Are your covered under a high deductible health plan? Save for planned or unplanned medical expenses with an HSA.
Pre-tax dollars for medical costs
Tax-free growth of funds
Year-to-year rollover
Immediate ownership of all dollars contributed by both employee and employer
Portability
Have questions? We're here to help!
Click here to schedule an appointment, call us at: 218-625-8500 or use our convenient video banking service to open an account.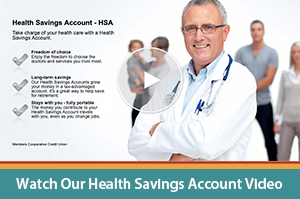 ---
Rates
Health Savings Account Rates1
Health Savings Account
Tier
APY
$0 - $9,999
0.20%
$10,000+
0.25%
(1) APY is the Annual Percentage Yield. Rate is effective August 10, 2023 and is subject to change.
Go to main navigation