Health Savings Account (HSA)
It's a healthy way to save!
Are your covered under a high deductible health plan? Save for planned or unplanned medical expenses with an HSA.
Pre-tax dollars for medical costs
Tax-free growth of funds
Year-to-year rollover
Immediate ownership of all dollars contributed by both employee and employer
Portability
Stop by your local branch or call us at 1-800-296-8871 to open an account.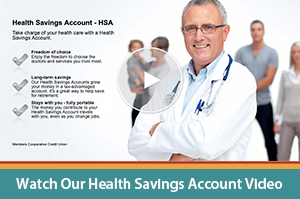 ---
Health Savings Account Rates
Health Savings Account Rates1,2
MembersPlus Health Savings Account
Tier
Interest Rate
APY
$0 - $999
0.10%
0.10%
$1,000 - $4,999
0.10%
0.10%
$5,000 - $9,999
0.20%
0.20%
$10,000 +
0.25%
0.25%
(1) APY is the Annual Percentage Yield and is subject to change.
(2) MembersPlus accounts require at least two products, one of which is an active checking account; active checking means a minimum of 5 debits per month or reoccurring direct deposit(s) totaling a minimum of $500 a month. See section 9 in the Truth-in-Savings Disclosure for applicable account limitations. Rates and yields are current as of January 1, 2020. Rates are subject to change. Contact us anytime for the most current information regarding rates. Share savings account limitations may apply.
Go to main navigation