OTHER E-SERVICES
We're always on the lookout for new products and services that will make your financial life easier. Check out the options below for some member-favorites.
Popmoney® Payment Service
Popmoney lets you "Pay Other People" (POP) anytime, anywhere, using their email address, mobile phone number, or bank account number. No writing checks or running to the ATM. It's safe, secure, and convenient!
Log on to Popmoney now to:
Use the eGreetings feature to send a personalized birthday or graduation gift
Take advantage of the future-dated feature to schedule your rent payment
Import contacts from your Yahoo! ®, Gmail®, or Hotmail® email account
Use your to-do list to help keep track of your Popmoney activity and payment tasks
Popmoney offers great personalization and scheduling features, and it's part of a nation-wide payment network. Enjoy the ease of sending funds to your family and friends in just a pop!
To use Popmoney:
Click the 'Popmoney' option
$5 minimum per payment
Terms and conditions apply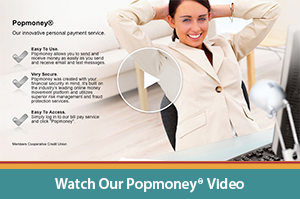 Popmoney FAQs
What is Popmoney?
Popmoney is a person-to-person payment tool. You can use Popmoney to pay anyone you know, or owe. It's a quick and easy way to send and receive money directly from your account.
How secure is Popmoney?
Information sent to Popmoney is thoroughly encrypted. Security is also utilized at specific points in the transaction process. For each payment directed to a new email address or mobile phone number, a one-time passcode is sent to the user. The user must provide that passcode back to Popmoney to verify his/her "ownership" of that mobile number or email address before the payment is deposited.
How fast can I send and receive money with Popmoney?
With Popmoney, a recipient can receive money in as little as one business day. In some cases transactions may take longer. For example, if you send an email or mobile payment and the recipient is not yet registered for Popmoney, he/she must sign up for the service so that we have their account information to deposit their payment. Also, if you exceed your next-day payment limits, then we will deliver payments within three business days.
What are my payment limits?
Limits apply to the amount you can send per transaction, per day and per month, as well as to total outstanding payments. You can always check your limits by visiting the 'Send Money' section within the Popmoney service and clicking on the 'Help' icon next to the 'Amount' field. (For the 'Help' icon to appear, you must enter information in to the 'From' and 'To' fields under the 'Payment Information' section.)
How does Popmoney work?
Popmoney works in four easy steps:
Log in to online bill pay. Select the 'Popmoney' option.
Send Money: Provide the email address, mobile phone number, or bank account information of the recipient, then choose your account, how much to send, and when to send the payment.
Notify Recipient: If you sent the money using an email address or mobile phone number, we will notify the recipient via email or text message with instructions on how to deposit the payment. If you sent the payment to a bank account, the money will be directly deposited into the recipient's account.
Deposit Payment: There are two ways to deposit a payment. If the recipient's bank offers Popmoney, the recipient can deposit the payment directly through their online banking service. If the recipient's bank does not offer Popmoney, the recipient can deposit the payment directly into his/her bank account by following the simple steps at www.Popmoney.com.
Will my bank account information be shared?
No, your bank account information, and the bank account information of your recipient, will always remain confidential. Your recipient will see your first name, last name, the message you wrote for the payment, and your email address or mobile phone number, depending on how you sent the payment.
Why am I asked to verify my email address/mobile phone number?
Popmoney enables anyone to send you money using your email address. To ensure you receive these payments, you need to register and verify your email address. In addition, we'll inform you when your payment is processed, when your recipient has deposited the payment, and if any changes are made to your Popmoney profile. We will also inform you in the event that your payment fails. For your protection we may send you a text message with a verification code to your mobile phone when you send money.
What are the fees associated with the service?
There are fees associated with each Popmoney transaction.
To Send Money:
Standard Delivery - $0.00
Next Day Delivery - $2.00
To Request Money:
Standard Delivery - $0.00
Next Day Delivery - Not Available
To Stop a Payment- $15.00
To include an E-Greeting- $0.25
You may be charged per text message by your wireless provider. Please check your wireless plan before you begin using the service.
Should I contact the recipient to inform a payment is coming?
It is not necessary, but is probably a good idea to alert your recipient they will be receiving a payment from you through Popmoney, especially if it is the first time you have sent them a payment.
Why can't I send money during the weekend or on a holiday?
Popmoney payments are sent through the Automated Clearing House ("ACH") network. ACH transactions are not processed on weekends or federal holidays. Please click the calendar icon within Popmoney to view available send dates.
What is the cut-off time to submit a transaction?
The cut-off time for submitting a Standard Three-Business day transaction is 10:00 p.m. PT (Pacific Time/ 12 a.m. Central Standard Time) each Business Day. Standard Three-Business day transactions submitted after 10:00 p.m. PT or on weekends or holidays will be processed on our next Business Day. A Business Day is every calendar day except for Saturdays, Sundays, and bank holidays.
The cut-off time for submitting a Next-Day transaction is 5:00 p.m. PT (7:00 CST) each Business Day. Next-Day transactions submitted after 5:00 p.m. PT (7:00 PM CST) or on weekends or holidays will be processed on our next Business Day. A Business Day is every calendar day except for Saturdays, Sundays, and bank holidays.
Can I cancel a payment?
Yes, you may cancel a payment any time before or on the send date. We will notify your contact if you cancel the payment on the send date.
---
CardValet® Mobile App
CardValet® service is now available in the MCCU mobile banking app!

CardValet is a service that enables you to control debit card usage and spending on the go by defining when, where and how your cards are used. It's ideal for users who want to actively manage their cards.
The financial management capabilities of CardValet enable cardholders to:
Monitor and control card transactions.
Set spending thresholds by dollar amount limits, merchant categories, and geographical locations.
Control your debit card spending in real-time.
Manage and review card usage for yourself and dependents; receive alerts when your card is used, approved, or exceeds transaction controls – all set up by you. Whether at the mall or away at school, support their needs, while managing their spending.
Help safeguard your cards from fraud.
Download the free CardValet app from the Apple® App Store or Google® Play Store.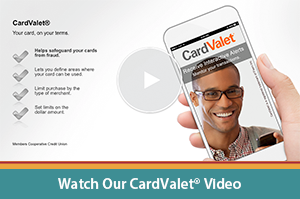 CardValet FAQs
Does CardValet work on Android phones and iPhones?
Yes. CardValet works with the most recent mobile operating software as well as two past generations of Android and iPhone devices.
How long does the app stay logged in if you don't log out?
The app automatically logs the user off in 10 minutes.
How will names appear on the card within the app?
Names are displayed as last name then first name (e.g.: SMITH JOHN.)
What are the CardValet password requirements?
CardValet passwords must be at least eight (8) characters in length and must contain at least: one (1) upper case character, one (1) lower case character, one (1) number and one (1) special character.
If the user's address is longer than 20 characters, what should be entered?
The user should enter the first 20 characters of the street address.
Can multiple cards be linked to one registered CardValet account?
Yes; cardholders can register multiple cards within a single CardValet app. Additional cards can be added within the "Settings – Add Card" screen.
How many cards can you register within a single CardValet application?
There is no limit.
You can download the card on multiple devices but are requested to indicate which device is "primary." What is the purpose of assigning a primary device? Can you make changes to the settings from the non-primary devices?
The primary device is used to track the GPS for "My Location" alerts and controls and all merchant and threshold alerts will be sent to the primary device. All devices that have registered a particular card can view or change the CardValet settings for that card. Controls (including the "On/Off" setting) are set at the card level, so the last update to a control will be honored regardless of which phone was used to make the change. Alerts are set at the device level, so each primary device will receive alerts that were set up from that particular device. The primary device can be re-set by accessing "Settings – Primary Device."
When cardholders receive a reissued or replacement card, will they have to update their cards within the application?
If the card number is new, then the user must "add" the new card number to the user's profile. In addition, the user may delete the old card by accessing Settings > Manage Accounts.
What exactly is the range of the "My Location?" controls, and will this control setting impact internet transactions?
The My Location controls and alerts will check to ensure the merchant location is within a five (5) mile radius of the device set as "primary" within CardValet. These controls impact "card present" transactions only, therefore internet transactions are not impacted.
If My Location is set but the primary device is off, will transactions get denied outside of the My Location area?
CardValet ignores location information that is more than one (1) hour old. So, if the phone is off for more than an hour My Location controls will not take effect, and the transaction will not be denied on the basis of the old location information.
What happens if My Location is set but the phone is left at home? Will transactions be denied outside the My Location area?
CardValet performs a proximity check at the granularity of zip code or city, so if the merchant is close to home then the transactions will still go through.
Can a user turn on My Location for a dependent's card? How will it work?
My Location is only effective for the enrolled user. To limit the dependent's card, the user can use the Region feature to set usage preferences for where the card can be used. Set location preference to "Region" in the drop down menu, then "Add" a "New Region" to set the map to the area where the card may be used.
A region has been set on the map. Does this mean the card can only be used exactly in this region?
The region shows the approximate area where the card can be used. CardValet can typically map the transaction down to a zip code or city. If the city or zip code of the merchant overlaps with the selected region in the map, then the transaction can still go through. There are instances where a merchant location cannot be mapped down to a zip code or city, in which case CardValet will default to a state-level match.
Can cardholders block all international transactions?
Yes. International transactions can be blocked using the "International" location control. Transactions will be limited to the United States.
Will location controls, merchant controls, threshold controls, and turning the card "Off" impact previously authorized recurring transactions?
Previously authorized recurrent payments will continue to process and will bypass the CardValet edit checks.
How long does it take for a control or alert setting to take effect?
Control settings take effect as soon as the "Updating information" message in the app stops.
How are controls established for various merchant types?
Specific merchant types have been created within CardValet, and these merchant types can be used for controls or alerts via the "Alert Preferences" or "Control Preferences" screen. Each of the merchant types contains various merchant category codes (MCC). Please note that it is possible for a retailer to forward a MCC that may differ from the CardValet merchant type classification. Merchant types currently supported include: Department Store; Entertainment; Gas Station; Grocery; Household; Personal Care; Restaurant; Travel; and Others.
How does a user turn off notifications at certain times such as when the user is sleeping?
The user can set the "Do Not Disturb" time that will suppress notification during the set times. Some notifications will still be delivered, for example any transaction denial or any transaction that is a card-present authorization.
Are the alerts sent as email or "push" notifications to the device?
CardValet alerts are sent as push notifications to the phone. The alerts also display under "Messages" in the CardValet app.
If the user has set an alert for international transactions and no controls are set, will the user receive alerts for all international transactions regardless of whether the transaction is blocked or successful?
Yes, an alert is generated regardless of whether or not a control preference is set.
If a user sets multiple alerts and a transaction violates these alerts will the user receive a separate message for each alert?
No, the alerts are consolidated into one message. For example, if the message has violated "Threshold" and Location settings then you will see only one alert and not multiple alerts.
Does the app show recent transaction history?
Yes, the app shows the last 50 card-based transactions posted within the last 30 days.
A threshold limit of $50 has been set but the user can't fill gas in some stations. Why?
There are some merchant types where a merchant will pre-authorize the card for an amount that may be larger than the actual transaction amount. In this instance the pre-authorization amount must meet the threshold spend limit.
What type of transactions display in CardValet?
CardValet only shows the transactions that are performed with the card. It does not show the transactions that are done on the account without using your card, such as teller transactions or bill pay on an account.
Go to main navigation